P&O Cruises #Take Me Back Sale
Up to $450 onboard spending money per room^ + $49 deposits pp#
Don't miss out on P&O Cruises Australia #Take Me Back sale to celebrate the launch of the 2022-23 program release! Book between 07 April – 06 May, 2021 and you can receive up to $450 on board spending money per room^ + $49 deposits per person#
P&O Cruises were the first to cruise to the untouched islands that lay scattered in the stunning heart of the South Pacific. With the most knowledgeable and respected local guides to show you the ropes, you'll be able to stretch your horizons and relax your mind, as you experience some of the most incredible and untouched spots on earth.
P&O Cruises make some of Australia's biggest annual events even bigger with there Main Events cruises. Whether you want to get your heart racing and watch the Australian Open, celebrate Australia Day at sea or grab a group of your best mates and live it up on a Christmas or New Year's Eve. P&O Cruises take the stress out of planning and organising so you can concentrate on having fun.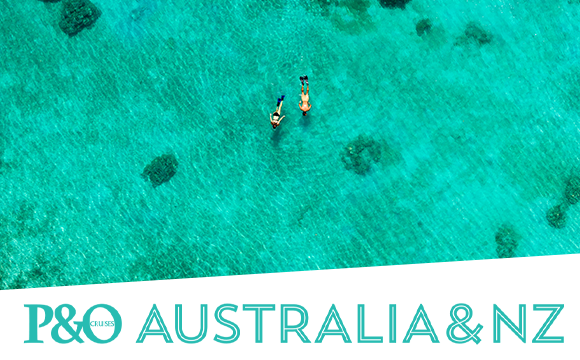 There's no place quite like our home. Book a P&O cruise and we'll take you to some of the most spectacular destinations in Australia and New Zealand, from world-famous sights to some of our best-kept secrets. With P&O you'll find a whole new world, right on your doorstep.
With P&O Short Breaks, it's easier than ever to cruise away for a few days and return feeling relaxed, recharged, and refreshed. Whether you're looking for a romantic escape or a fun family getaway, our 2-5 night cruises are the perfect short holiday option. Hop aboard one of our One-Stop Short Breaks to explore some great local destinations, or get ready to party on a themed cruise. A P&O Short Break is the fastest way to slow down.