Please select listing to show.
Europe 2023 with Princess
Book by 26 July 2021 and receive a AU$100 discount per stateroom1 + US$100 on board spending money per stateroom2 + half price reduced deposits3 + past guests save up to $200 per person4
Princess® offers the best of Europe in 2023, with popular itineraries sailing from the Mediterranean and British Isles to Scandinavia & Russia and Norway & Iceland. On voyages from seven to 33 nights long, visit famous landmarks, including many UNESCO World Heritage Sites, and enjoy the Princess® Medallion Class® experience on all ships.
Let local experts guide the way with foodie-friendly and art-centric tours that fit your interests.
Secure your preferred cruise now as the most popular itineraries are already selling out. With travellers unable to explore for so long (nearly 2 years), there is enormous pent-up demand globally. Northern Hemisphere countries can travel freely and they are booking destinations in record numbers, snapping up the amazing deals and the best staterooms. If you plan to explore the world with Princess we encourage you to act now & secure your preferred cruise before it's too late!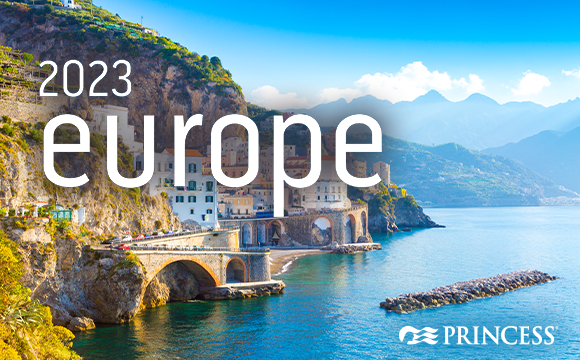 Book any 2023 Europe Princess cruise by 26 July 2021 and you could receive;
US$100 onboard credit per stateroom2
AU$100 discount per stateroom1
Half-price deposits3
If you are a past princess guest, you could save up to an additional $200 per person4
Book any 2023 Europe Princess cruise by 26 July 2021 and you could receive;
US$100 onboard credit per stateroom2
AU$100 discount per stateroom1
Half-price deposits3
If you are a past princess guest, you could save up to an additional $200 per person4
Enquire about this promotion